Hmmm... am I being framed...?

Horror masked man robs store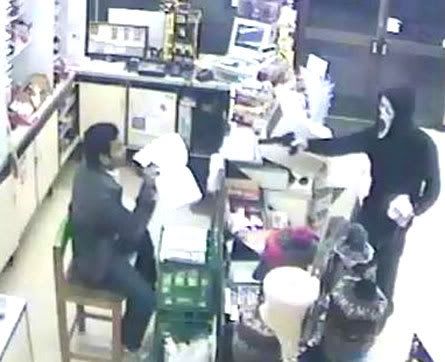 A man wearing a horror mask from the movie Scream robbed a Melbourne convenient store last night and is now on the run.
Police are hunting for the man after he escaped the East Bentleigh Foodies convenient store shortly after 12.30 last night with a plastic bag containing money from the till.
The store attendant, known as Kumar told the media the masked robber in dark clothes pointed the gun at his head and demanded the money.
"I was sitting in my chair reading my book and he came through the door and showed me his gun. I was really scared suddenly because there was no one there," Kumar said.
"I opened the till and gave him all the money."
Police have released the footage of the incident, which shows the thief cocking his semi-automatic weapon and demanding money from the till.
Police urged anyone who sees a mask of the same design to contact Crime Stoppers on 1800 333 000.
- Friday Aug 10 15:00 AEST, ninemsn.com

That reminds me... I thought this should be noted down for history's sake:

Giant, smiling Lego man emerges from the sea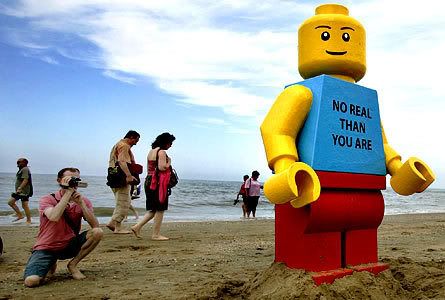 A giant, smiling Lego man was fished out of the sea in the Dutch resort of Zandvoort.
Workers at a drinks stall rescued the 2.5 metre tall model with a yellow head and blue torso.
"We saw something bobbing about in the sea and we decided to take it out of the water," said a stall worker. "It was a life-sized Lego toy."
A woman nearby added: "I saw the Lego toy floating towards the beach from the direction of England."
The toy was later placed in front of the drinks stall.
- August 8, 2007, news.com

And I can't forget this gem from the MX of July 19, 2007. It saddens me to think that there are unemployed journalists (i.e. me) in the world, while someone is paid to write sentences like this:

CD singles' swan song

Sales of CD single sales have falled by 47 percent in just 12 months this year in Britain.

Australian comparisons for the period are not yet available, but ARIA recognises the decline and says it does not demonstrate a loss of consumer interest, but, rather a shift to digital formats. Bands have had more success recently with vinyl releases and limited-edition issues of tracks on USB cards.

Australians bought 12 million CD singles in 2001 and only four million last year.

I just remembered that article fell out of my wallet while I was searching for something at Gaby's farewell party, and someone, I think his name was Matt, asked about it. I told him it was an article from the MX newspaper.

"Newspaper?" he scoffed. "More like toilet paper!"

Perhaps then I shouldn't have been so surprised to see a sentence like that?