Last week was an interesting week.

On Wednesday I went to a church in Northcote to see Kimya Dawson play. It was nice, and Sim was initially glad to see that the trend was towards sitting on the floor, but was less impressed after a few minutes of actually sitting on the floor and discovering that the hardwood surface wasn't comfortable at all. He was also pleased when he recognised a member of one of the support bands as coming from Baseball. I wasn't sure if the second support was a joke or not. I think he was French-Canadian, and talked a lot about mountain goats, or The Mountain Goats, and had songs that I would normally be interested in but this time wasn't.

The following night was my Dad's birthday, and after family dinner at some Middle Eastern place near Selina and Gaby's old house, I had to get away quickly to Barry Adamson's concert at the Corner.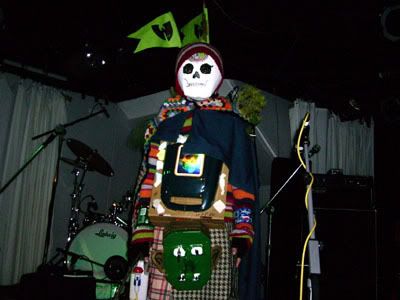 When that guy came on stage accompanying the skinny, quite nerdy support act, I knew that he wasn't a joke. The guy had introduced himself as Cougar Flashy - a nine-toed folk singer - and would probably have been better suited to playing with Kimya the night before, but it didn't matter. Once the pinãta-esque character, who was later explained as a tribute to Wu Tang Clan's Ghostface Killah, came onto the stage and towered silently and ominously over Cougar Flashy, people rushed to the front of the stage, camera-phones in hand. When he said he was out of time, people begged for one more song, and when he said that he had stayed up late with coloured pencils drawing the CD cases for his merchandise stand, more girls cried 'So cute!' than one would expect to hear during a Japanese girls school's excursion to the Hello Kitty factory.

Barry himself was impressive. I wasn't too familiar with his songs outside of soundtracks, but it was fun, and the Corner was amongst a handful of perfect places for the show. I was even inspired to buy a record, though I gave it to Sim when I got home.

The other interesting thing that happened last week was this: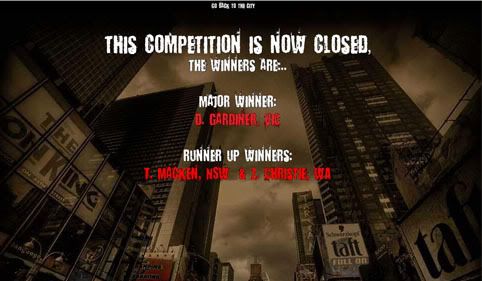 I got a phone call from a woman who told me I'd won a competition. I've entered so many competitions lately, I had to think back to which one it was that she was talking about. I had hoped that she was offering me a PlayStation, since mine is broken and I had spent hours trawling the internet for competitions to win a new one. When she said she was checking my address for proximity to the airport, I had to think harder, and finally the reality of what I had won emerged: Someone called Amy Meredith would be coming to my house to perform an exclusive gig. My family instantly agreed that this was the worst thing I had ever done. Meanwhile, I kept recieving calls from promotors and band agents asking me to send photographs of my house with access points, and whether I was excited to meet the band. I played along, at this point still figuring that Amy Meredith was the name of a girl, a solo artist maybe.

It didn't take me long to figure out that Amy Meredith is actually the name of band of five guys from Sydney, and by nine.AM Saturday, they had arrived at my backyard, complete with a tour bus baring the names of corporate sponsors of the initiative that was taking them and fellow bands to schools around the country. I'd wanted to spend a while preparing myself in the days leading up to their arrival, but an epileptic seizure had ensured otherwise. At the very least, I had secured RSVPs from ten friends to attend the show, as requested.

Three of them showed up. I guess the early morning timeslot was offputing to most. I felt sorry for the band, and asked if this was the worst gig they'd ever played. But they were gracious and good humoured. At one point before they played, they'd asked if I could switch on the complicated television to channel ten - it seemed they had been interviewed by Video Hits and it was airing this morning. I was most impressed that the performance had attracted the attention of neighbours and golfers alike. Mere moments after their roadshow left, Adam arrived. He'd spent the night with a friend drinking to excess to mourn the death of the friend's relative, so he, Julie and I went out to a late breakfast.