'If you drink too much,' said Giann Rooney on a television commercial during last week's Amazing Race. 'You don't give yourself the opportunity to meet your full potential.'

'No,' I replied at the screen. 'But I do get to meet interesting people I wouldn't otherwise speak to.'

And so, the following evening, Adam and I set out to follow the instructions from the USB wristbands that had been delivered to my house on Wednesday. They told us that we would be sent further details of the secret location we were being invited to via SMS, and should wait in the vacinity of Flinders Street Station at eight.30. We were still on the train heading towards the city at almost exactly eight.30pm when the message arrived.

Time to get going, the Smirnoff Experience Secret Party kicks off at 8.30pm! Head to 20-30 Bourke Street, Melbourne, VIC 3000 for a night to remember.

I instantly recognised the address as The Metro, and, although Parliament would have been a better station, our train stopped at Flinders, so we walked quickly from there, through streets cluttered with people walking in a haphazard fashion.

Outside, girls were giving Smirnoff hats to those trying to get in without wristband passes, and Adam and I took them anyway. The bouncer warned that the night was invite only, so I held up my wristband, and he insisted that I put it on and wear it at all times. When I struggled with the awkward piece of technology, he told me to hold out my hand and fastened the device for me.

'Does this mean we need to get married or something?' I asked, and he pushed us both onto the red carpet inside.

At the end of the red carpet, at the bottom of the staircase that leads to the levels above, a doorman even more stereotypical than Steven at the Carlton Crest welcomed us, and produced a feather duster seemingly from thin air and discreetly dusted off the shoulders of my blue leather jacket. He told us that we could head upstairs to New York and the Las Vegas room, and that was about all I heard of his directions, as a Las Vegan showgirl was giving us each a stack of black and white gaming chips. We thanked them both, and headed upstairs, where I was impressed by my first impression of the newly redeveloped Metro, or Palace as future generations may know it, and that the balcony was now open for smokers.

We found The Lab, where scientists were toiling over troughs overflowing the steam from dry ice and producing a delicious sorbet served in half a hollowed out lime. We returned numerous times to this destination, and it was here that we met an old aquaintance of Adam who I think might also have been called Daniel, and he wondered aloud whether there was any alcohol in the sorbet. We replied that we thought the alcoholic strength was evident in the taste, but he confessed to not having a reliable sense of taste, having recently sold a number of his teeth to fund a drug binge. I noticed Adam sidling away, so I made the excuse that we were going back for another sorbet, which we did, before heading upstairs to God's Bar.

Since the renovations, God's Bar, while still seemingly incomplete, looks almost unrecognisable. The formerly small, dark space has been opened up incredibly, and leads, through extravagent glass doors, to the old balcony overlooking the main floor and stage. The room itself is much brighter, and almost reminiscent of the Korova Milk Bar, but that could have just been made up for the event. It was here that Adam initiated me into The Game, and, until right as I typed this sentence, I was doing pretty well.

Through the glass doors, we were greeted by New York Mets girls, and the selection of finger food was almost worthy of photographing. Miniature hotdogs, hamburgers, and tiny take-away Chinese food containers. It was a theme that ran through all of the rooms, but it was most memorable, I think, in the New York room. It was also in this room that we discovered a use for our casino chips - they could be traded for the themed cocktail in each room. Armed with whatever cocktail Smirnoff is used for in New York, Adam was attracted outside, down the side stairs to the main floor. Was that Enya we could hear? On the main floor, we watched with only a passing interest whatever DJ was playing while we sipped Smirnoff Energy Drinks.

'Aren't these the ones that are supposed to be dangerous?' Adam asked, showing me the note on the can that read '7%,' with little other explanation. But I had noticed something interesting on the dance floor: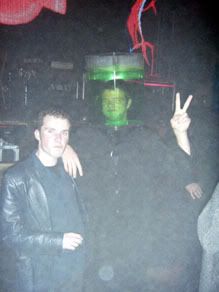 Through the artificial fog, I introduced myself to a troup of five figures, similarly clad in black suits, holding their breath inside the fish tanks on their heads. They finally managed to entice more people onto the dance floor, but we had more rooms to investigate. First we walked through the alcove above the dance floor, taking little notice of what was going on there, and found ourselves accosted by a mime.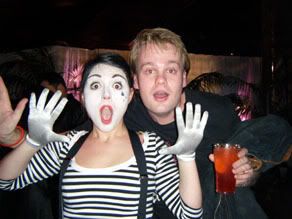 This must have been the Paris room. It was becoming quickly evident that most of the guests seemed to be with the press - journalists and photographers. The people I spoke to didn't say what they did, but who they wrote for. We did meet a pair of Armenian-looking guys, with whom we would later go in search of Adam's friends, and wind up at the Prince Of Wales, in the midst of Lesbian Night and further unsavoury adventure. But in the meantime, we went to one of the rooms we had bypassed, and I excitedly pointed out the (youthful) Comrade Gorbachev impersonator, flanked by two Soviet Stereotype models. I chased them for a picture, but they seemed in a hurry to get somewhere, potentially the Soviet Embassy.

And before we'd even had a chance to leave, before we were attracted back to the main floor by the sounds of real Polynesian drums and a traditional dancer who melded seamlessly into a crumping battle presided over by, I think, Dexter, it was decided that this wouldn't be our last Smirnoff Secret Party. Even if we had to travel vast distances, we would go to more of this intrguing junket-cum-art happening.