When I reminded Adam at Movie Night that we had another junket to go to on the Thursday following, someone said 'Junket? Isn't that one of those Chinese boats?'

Bacardi Express Launch,
The Metro - March 26, 2009

We arrived with a handful of tickets to The Vagrants' gig at the HiFi just in case, which would ultimately go unused. The fact that I had printed our eTickets on Foolscap instead of A4 paper as instructed proved no problem. Our first impression was that the event was clearly not as whimsical and dynamic as our last adventure to the Metro for Smirnoff's Secret Party. We headed onto the main floor first, noting the absense of the likes of Comrade Gorbachev and French mimes, and also that the crowd were more old and sparse. Our first shock came at the bar, where we were forced to pay for drinks. The cocktails were overpriced, small, and made without accuracy, but we bought a couple anyway and headed to the front of the stage upon a pre-recorded announcement that Bluejuice were about to take to the stage.



I was immediately impressed by their matching skeleton costumes, but the set wasn't as high energy as the last time I saw the band at the Big O concert a few weeks earlier. Nor was the audience as enthusiastic. The band sounded good, but, as much as I praise the Metro as one of, if not the best live venue in Melbourne, it was perhaps too big to get the kind of excitement present at the weirdly Irish looking downstairs of QBH at the Big O. Or maybe it was entirely the audience's fault - it's hard to jump around like crazy, yet still behave in a considerate way, when the wallflowers have moved to the front row so they can tamely wave their hands in the air when The Reductionist comes on.

We headed up to the balcony next as a dance act was announced which appeared to be little more than girls in skinTight Bacardi t-shirts pretending to play on turnTables. We found some seats, but I stood up for a better look when British India took to the stage. They were enjoyable, and on the floor below, people seemed to get excited about their hits, but they didn't sound at their best. I must say I enjoyed the band more when Craig took me to see them at that place near Switch before I knew any of their songs. Still, they were fun to hear.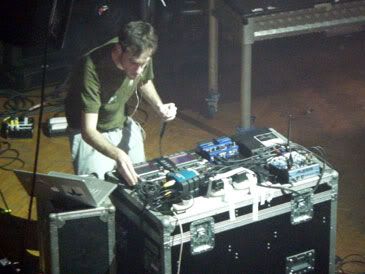 Beardyman seemed to be the surprise hit of the night. Combining beatBoxing with a series of buttons, switches and what appeared to be a phototheremin arranged hapharzardly on a crate with his own voice he ran through a string of covers, much to the audience's admiration. It was the first time many of them looked at the stage all night. He was followed by Groove Armada, whom I thought may have been good to see, but sounded fairly bland. People bopped along, but not with any real vigour. I was certain they had some hits, but if they did they didn't play them. Admittedly we left fairly early into their set, with plans of buying a bottle of wine and heading back to Adam's house. The Bacardi party was a disappointment, with the railway motif little more than a gimmick, and the supposed Bacardi Express train itself an unneccasary expense, should it even really exist.

It was later than we realised when we arrived at Flinders Street station, and the last train to Frankston was sped away as we ran to the platform. As we headed back up stairs wondering where the night would take us, a we told a pair of unappealing girls that they had missed the last train. They spoke to each other in low tones before coming over to speak to us.

'If you guys have money,' one of them said. 'You could take us to a bar and buy us drinks until my brother arrives, and I'll have him drive us all home?'

She didn't specify whose home, but Adam and I didn't need to confer with one another to simultaneously decline their dubious offer. I suggested we take the Sandringham line and get a perhaps slightly cheaper taxi from the Daily Planet. As we headed down the line, Adam mused that his two week lucky streak must be over. I suggested a daring move when the train pulled into Richmond station, and dragged us off. If the Funkytown Express was travelling via the City Loop, I theorised that our direct train may have beaten it. As it worked out, I was right, and as well as learning a valuable tactic for the future, could assure Adam that his lucky streak was continuing.

Adam and I were discussing some event which I said 'seemed to cater to under 18 audiences,' when a man sitting next to us carring an assortment of bags interupted with 'Paedophiles cater to under 18 audiences!' He went on to reference Michael Jackson as the passengers on the rest of the train encouraged him with cheers and mobile phone video cameras to dance. At Malvern Station and old woman from the other carriage shuffled aboard our carriage, complaining in a thick Russian accent that passengers were smoking in the previous carriage, I mused that perhaps that was the lesser of two evils, compared with the rambuncious behaviour we were dealing with. This seemed to make me an instant sensation with the bored passengers.

When the man tired of his dancing, he asked Adam and I if we would be interested in challenging him to a game of TwoUp so that he might win and be able to afford a taxi to his house. One of a pair of twins who looked like a young Chris Martin turned around and asked where home was.

'I don't want to go to Kananook,' he said, turning to Adam and I as though we might agree. 'I live in Kananook, but you don't want to go to that station, right? So I'll go to Frankston and get a cab. Does anyone want to play TwoUp? I can't afford my cab!'

What he said next took me by surprise.

'Maybe I'll keep going past Frankston. Maybe I'll ride this train all the way to Byron Bay!'

It couldn't be...? But was it? Was this the man who inspired
my forthcoming work A Public Transport User's Guide to Melbourne?. Certainly, he was without the ill-fitting suit and briefcase, and the semi-premium spirits had been replaced with a bag of Fruity Lexia, but, hey, I've fallen on hard times too. And the points in support were also present - his sometimes political rambling that, although with only minimal links, made sense when concentrated upon, and the distinctive boom was still there in the 'Byron Bay' chant. I couldn't be sure, but it seemed like to great of a coincidence not to be so. So, if it was him, how had things changed, aside from the obvious. For one thing, he was wearing a hospital identification bracelet, suggesting he had escaped from somewhere. He left soon after another Moonwalk to try to solicite gambling opportunities at the front of the train, and left me wondering, hoping it was the same guy.

Before we left the train, the Russian woman hobbled past while Adam and I were trying to remember who directed Pan's Labyrinth, Cronos, and Hellboy. I said something not untoward or obscene to Adam at the moment when she walked by, at which she quickly snapped her head towards me at an inhuman angle.

'The mouth on you!' she spat as she headed towards the door. 'Disgusting! I am old enough to be your grandmother!' She shook her head as the train slowed, muttering to other passengers, having taken my film critique self-righteously as a pick-up line, it seemed. She was still complaining when the train stopped. 'Old enough to be your great grandmother, in fact!'

As the train pulled away from the station, we saw her through the glass still gesturing and speaking rapidly. And to think, I was just this week wondering about a conclusion to the book.